SOZONEXT Inc. is pleased to announce that Building Management Institute Inc. interviewed us about "RedB", a collection of real estate transaction knowledge in three languages developed by SOZONEXT, "RaaS (Real estate as a Service)", a new real estate utilization business in which SOZONEXT supports major real estate companies, SOZONEXT's future business development and social contribution. This article was published in the December 6 issue of "Weekly Building Management.
SOZONEXT brings together an IT team with a proven track record in developing mission-critical computer systems for the financial and distribution sectors, and human resources who have played a leadership role in various fields such as real estate, marketing, and local development projects.
SOZONEXT will continue to create new value through the planning and development of new RaaS, and will actively engage in businesses that can contribute to society in the future, such as safe and secure international real estate transactions, "utilization of idle real estate," and "regional development. In addition, we will continue to research and develop "SOZONEXT's unique next-generation RaaS" that combines artificial intelligence and machine learning functions in order to support advanced and global businesses that are required by major companies in Japan and overseas, and businesses that aim to become the No. 1 in the industry.
Article in "Weekly Building Management" (PDF: Japanese version)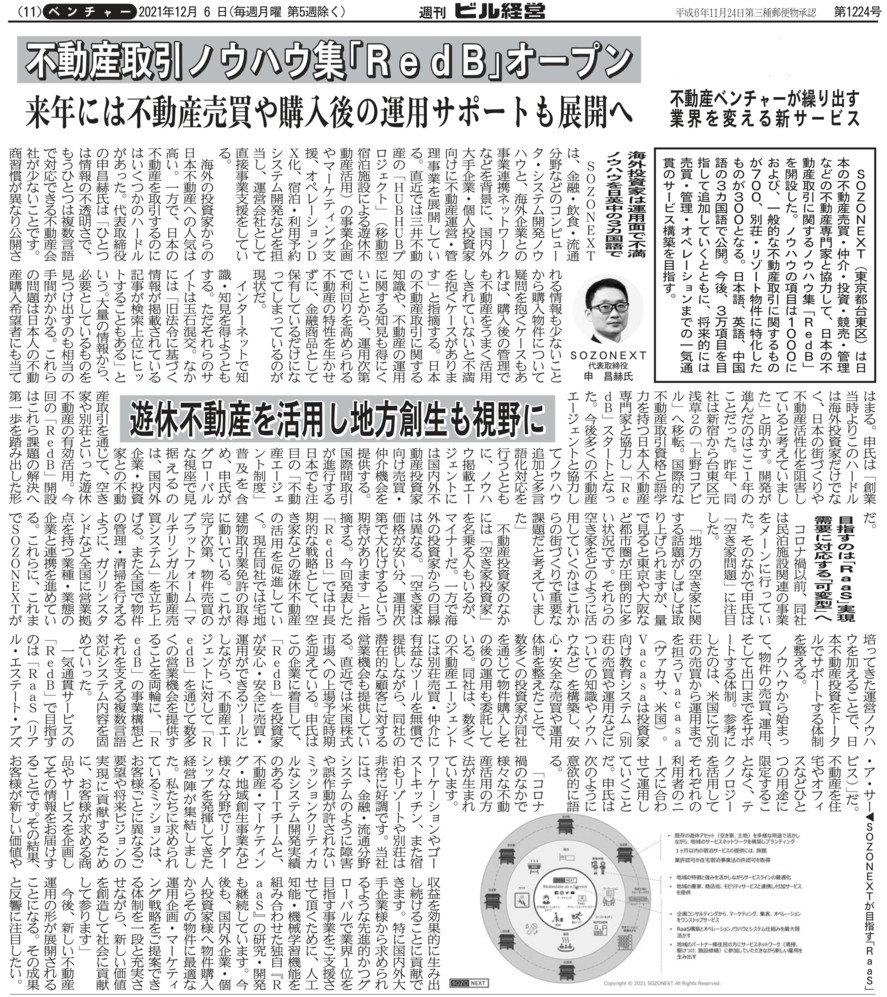 Summary of Media Release Article
Real Estate Venture Unveils New Service to Change the Industry
Real Estate Transaction Knowledge Collection "RedB" Opens
Real estate sales and purchase and post-purchase management support to be rolled out next year
SOZONEXT (Taito-ku, Tokyo), in cooperation with Japanese real estate experts in real estate trading, such as sales and purchase, brokerage, investment, auction, and management, has RedB, a collection of know-how on Japanese real estate transactions, has been launched. There are 1,000 items of know-how, 700 on general real estate transactions and 300 specializing in vacation homes and resort properties. The site is available in three languages: Japanese, English and Chinese. In addition to adding 30,000 items in the future, the company aims to build an integrated service that includes sales, management, and operation.
Foreign investors dissatisfied with management
Know-how in three languages (Japanese, English and Chinese)
SOZONEXT is developing its real estate operation and management business for major corporations and individual investors in Japan and overseas, backed by its know-how in computer system development for the financial, restaurant, and distribution sectors, as well as its business collaboration network with overseas companies. Most recently, the company is support for Mitsui Fudosan's "HUBHUB Project" (utilization of idle real estate through mobile lodging facilities), such as business planning, marketing, DXification of operations, development of a reservation system for lodging and usage, and direct business support as an operating company.
Japanese real estate is highly popular among foreign investors. On the other hand, there have been several hurdles in dealing with Japanese real estate. Mr. Changhe Shen, the president of the company, points out the following issues.
"One is the opaqueness of information, and the other is that there are few real estate companies that can respond to overseas investors in multiple languages.Since business practices are different and there is little information available to the public, there are cases where overseas investors have questions about properties they are considering purchasing, and there are also cases where overseas investors complain that they are not making good use of the property in terms of management after purchase. For many foreign investors, it is difficult to acquire knowledge about Japanese real estate transactions and real estate management, so they are simply holding real estate as a financial product without taking advantage of its ability to increase yield depending on management."
Overseas investors also try to acquire knowledge and expertise on the Internet. However, these sites are a mixed bag. In some cases, articles that contain information based on old laws and regulations hit the top of the search results," according to the company. It takes a lot of effort to find what they need from a large amount of information. These problems also apply to Japanese prospective buyers of real estate. Mr. Shen reveals, "Since the time of our founding, we have believed that this hurdle is not only hindering overseas investors, but also hindering urban development and real estate revitalization in Japan.
RedB was launched in cooperation with Japanese real estate professionals with both international real estate transaction qualifications and language skills. In the future, RedB will work with many real estate agents to add their know-how and multilingual support, and will also provide agents who post their know-how with opportunities to buy, sell and brokering for domestic and foreign real estate investors. Mr. Shen's global vision is to make effective use of unused real estate such as vacant houses and vacation homes through real estate transactions with domestic and foreign companies and investors, including the spread of the "real estate agent system," which is attracting attention in Japan as global transactions progress. The launch of "RedB" is the first step toward solving these issues.
Aiming to achieve "RaaS"
Becoming "variable" to respond to demand
Utilizing Idle Real Estate to Create Local Communities
Before the Corona disaster, the company was mainly engaged in businesses related to private lodging facilities. In the process, Mr. Shen focused on the "vacant house problem," and he said, "The topic of vacant houses in rural areas is often discussed, but in terms of volume, the numbers are overwhelmingly large in urban areas such as Tokyo and Osaka. I thought that how to utilize these vacant houses would be an important issue in the future when considering urban development."
Some real estate investors call themselves "vacant house investors," but they are minor. Overseas investors, on the other hand, have a different perspective. They point out that "vacant houses are inexpensive, so there is an expectation that they will turn into a big business depending on how they are managed. As a medium- to long-term strategy, RedB will promote the utilization of vacant houses and other idle real estate.
Currently, the company is in the process of acquiring a license for real estate transaction business. As soon as this is completed, the company will launch the "Multilingual Real Estate Trading System," a platform for trading properties. In addition, the company is working with gas stations and other companies that have sales offices across the country so that they can manage and clean properties nationwide. By adding the operational know-how that SOZONEXT has cultivated so far to these services, the company will establish a system to provide total support for Japanese real estate investment.
The goal of RedB, an integrated service, is "Real Estate as a Service" (RaaS). The goal is not to limit the use of real estate to a single purpose, such as housing or offices, but to use technology to adapt the operation to the needs of each user. Mr. Shen said the following.
"There are many ways to use real estate in the Corona disaster. After the worst time of the corona disaster, various ways of utilizing real estate have emerged, such as workcations, ghost kitchens, and lodging, resorts and vacation homes are doing very well. We have brought together an IT team with experience in developing mission-critical systems that cannot fail or malfunction, such as systems in the financial and distribution sectors, and a management team that has taken leadership roles in a variety of fields, including real estate, marketing, and the regional revitalization business. Our mission is to plan and deliver information on the products and services that our customers demand in order to contribute to the realization of their unique requirements and future visions. As a result, we can contribute to our customers to continue to effectively generate new value and revenue. In particular, we also continue to research and develop our own "RaaS," which combines artificial intelligence and machine learning capabilities, in order to support businesses that are advanced, global, and aim to be number one in the industry, as required by major corporations in Japan and overseas. In the future, we will continue to enhance our system to propose optimal management plans and marketing strategies for properties, from the purchase of the property to its management, for domestic and foreign companies and individual investors. By doing so, we will contribute to society by creating new value."
In the future, a new model of real estate management will be developed. It will be interesting to see the results and the response.